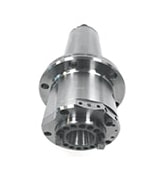 About Fadal Spindle Motors and Parts
At ITSCNC, we take pride in offering a diverse range of replacement Fadal Spindle Motors and parts, catering to the specific needs of CNC machine enthusiasts.
Our Products:
Digital Load Meter, for Legacy Pendants: This precision instrument helps you monitor and manage load conditions with ease, ensuring optimal performance.
Spindle Motor Fan: A crucial component for temperature control, keeping your spindle motor running efficiently.
Spindle Motor Mount: This essential part ensures the proper installation and alignment of your spindle motor, contributing to reliable operation.
Filter For Spindle Motor: It's a vital component for safeguarding your spindle motor from contaminants and ensuring its longevity.
Spindle Motor With Encoder: Featuring an encoder for precise control, this spindle motor offers enhanced performance and accuracy.
Spacer Kit - Spindle & Motor Pulley: This kit includes spacers designed for spindle and motor pulleys, ensuring proper alignment and efficiency.
15HP Spindle Motor With Encoder for Fadal CNC: Fitted for Fadal CNC machines, this motor delivers 15 horsepower and features an encoder, a special tool for precise control.
5HP Baldor Spindle Motor with Encoder for Fadal CNC: Tailored for Fadal CNC machinery, this 5-horsepower motor incorporates an encoder, enhancing accuracy in operations.
10HP Baldor Spindle Motor with Encoder for Fadal CNC: Specifically designed for Fadal CNC systems, this motor boasts 10 horsepower and includes an encoder, which aids in achieving precise control.
20HP Spindle Motor With Encoder for Fadal CNC: Engineered to substitute existing 20HP motors in Fadal CNC machines, this motor offers a robust 20 horsepower and is equipped with an encoder for finely-tuned performance.
If you have any questions about our motors, please inform us. We're here to provide answers to help you choose the correct motor.
About ITSCNC
As your CNC solutions partner, ITSCNC is dedicated to providing top-quality Spindle Motors for your Fadal Machine and Fada l parts to optimize your CNC machine's performance. We understand the importance of precision and reliability, and our product range reflects this commitment.
Warranty Information
For specific warranty details on each Replacement Motors for Fadal CNC Machines, we recommend visiting the individual product pages on our website. This will provide you with accurate and up-to-date information regarding warranty coverage all our products have.
Dedicated Support
We are glad to let you know that our experienced team is here to assist you with any inquiries, technical guidance, or support you may require regarding the products that we have before you make a purchase. We are committed to ensuring your satisfaction and success with your CNC machine. Feel free to reach out to us; we're ready to help.
For more detailed information about our Fadal Spindle Motors and parts, we invite you to explore the product pages on our website. There, you'll find comprehensive specifications and insights to assist you in making informed decisions tailored to your CNC machining needs.