ITS Spindle Rebuild Services
If you would rather send your Spindle in for rebuild instead of buying ones of ours you can click the link at the bottom of this page to start the RMA Process. The process takes longer (5-10 working days) than buying one and returning your old one for core credit but the result is the same and it usually costs less than buying one. We service all FADAL Spindles - ALL RPMS and ALL Lubrication Systems: Our spindle rebuild service will completely restore your Spindle to like new condition. In addition to New Bearings we also perform the following steps:
1. Re-Grind the Taper.
2. Turn the Housing.
3. Black Oxide the Housing (prevents rust).
4. Replace Drawbar Floater & Springs.
5. Update Spindle to latest possible revision.

Not All Rebuilds Are The Same:
Over time and usage, the spindle taper tends to open up, this is known as "bell-mouthing" the taper. While some companies just regrind the taper without considering the spindle geometry, we carefully inspect the taper to ensure if correcting the taper will require too much material to be removed. If this is the case we will Chrome plate the taper first then regrind the taper. Doing this costs more but it guarantees that all spindles we ship have the correct wall thickness between the spindle taper and the spindle inter-bearing races (shown as Regrind Weakness in the above picture). Too much taper grinding weakens the spindle shaft.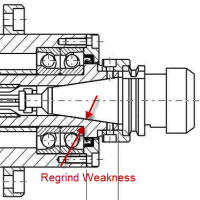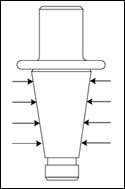 Beware- We've even seen some spindle repairs just polish the taper with sand paper. While it might seem cheaper and it might look good, but is it? A quality spindle rebuild is more than replacing the bearings, proper tool support is the key to all machining.
The three conditions most important in controlling taper are: taper size, angle and straightness. If the toolholders rate of taper is too great there will be excessive clearance between the tool holder and the spindle at the small end of the taper.
If the rate of taper is too small, there will be excessive clearance at the large end. An error in straightness is known as a "barrel-shaped" error and is typically caused by bad tooling or hand polishing. Either situation can reduce the rigidity of the connection and cause tool run-out and chatter, which may show up on the work piece as geometry and/or surface finish error.
Support- It's with our engineering knowledge that you are getting the absolute best product support possible at installation and beyond. The spindle is one of the most important aspects of the machine. Why send a spindle to someone without the original engineering experience that ITS has..
Warranty- Rebuilt Spindles have a One Year Warranty. For more information on our warranty see our policies page.