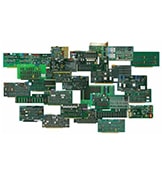 About Fadal CNC Circuit Boards & Memory
Only ITS CNC has in stock all of the replacement Circuit Boards for your Fadal CNC. We have an extensive selection of parts. From Clock Cards to Spindle Controllers, we offer a wide array of Fadal CNC Circuit Boards & Memory Online to meet your needs. Whether it's a Mill Interface or a Resolver Test Board, our inventory holds the key to enhancing your Fadal CNC experience. Take a moment to explore the variety we have in stock and ready to ship.


Our Fadal Circuit Board Inventory
Presenting a diverse range of CNC Fadal Parts :
Clock Card

Mill Interface

Motherboard 14 Slot

Resolver Test Board

Keyboard Interface

Pendant Interface

CPU Board

Video Interface

Axis Control

Spindle Control

Memory 384KB

Memory 4MB

8MB Memory

Memory 16MB

Chiller Relay Board

Scale Fault Detection

3 Port Bus Board 1730

Scale Interpolation BoardScale Fault Detection

Program Module for CPU 1400-4 Software Version V96.1B4-3

Program Module

Servo Turret Amplifier

Spindle Controler Card

220V Surge Suppressor New Style, Large Connector

510V Surge Suppressor New Style, Large Connector

4th Axis Inhibitor Board

Air/Oil Control, 1980-0A

Program Module Software Version 103.5

Program Module, Spanish

4 Port Bus Board

Computer Interface

Dual Temp Control

Color VGA Adaptor Board

Power Distribution Board

Fadal Control, Upgrade Kit

Legacy Control, Upgrade Kit

Brake Control

Dual Arm Tool Changer

Power Distribution Board

Mill Interface

Axis DC Upgrade Kit for AC or DC Machine

Wire Harness, 4th and 5th AXIS Inhibitor Assembly
We at ITSCNC have replacement Fadal CNC Circuit Boards in stock and available for immediate shipment. To gather more information, you can visit our product pages to explore the complete range of Fadal CNC parts that we offer. Our online catalogue is there to facilitate your shopping experience.


We Only Sell High-Quality Circuit Boards
Starting in 1992 Fadal Engineering chose ITS CNC to test and repair all of their circuit boards. Look at any circuit board in the card cage and you will see an ITS stamp on the board. It's estimated that we tested over 300,000 circuit boards for Fadal from 1992 to 2008.
ITSCNC specialises in supplying top-quality CNC circuit boards. Our approach involves Engineering knowledge, experience and rigorous testing for reliable performance. With over a decade of experience, you can trust ITSCNC for high-quality boards that enhance your Fadal CNC machine.


Benefits Of Our CNC Circuit Boards And Memory
Together, let's uncover the diverse benefits that come with our products:
Precision Enhancement: You get to elevate your CNC tasks with legacy Fadal CNC Circuit Boards that will keep your Fadal running a long time.
Reliability Assurance: Trust in the durability of our products, built with quality components to ensure reliable and consistent performance over time.
Seamless Integration: Our circuit boards and memory modules seamlessly integrate into the Fadal Legacy Control ensuring a reliable machine for years to come.
Industry Expertise: With over two decades of experience in handling Fadal CNC circuit boards, ITSCNC brings expertise to the table, delivering solutions that cater to your Fadal CNC needs.


Warranty
For precise and up-to-date warranty details, we recommend visiting the respective product pages. There, you can find comprehensive information regarding warranties associated with our circuit boards and memory modules. This ensures you have the most accurate understanding of the warranty coverage tailored to each specific product.
Generally new circuit boards have a one year warranty and remanufactured circuit boards have six months warranty.
If you're unable to locate a specific part you need, feel free to give us a call, and our experts will be ready to assist you in finding exactly what you require.