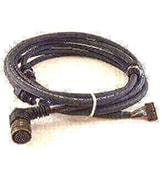 About Fadal Cable Assembly and Wire Harness
In January 2017, ITSCNC purchased RG Systems Cable, the company that had been making FADAL's wire harnesses for 30 years.
Now, ITSCNC manufactures all of Fadal Cable and Wire Harness at our new facility in Chatsworth, California. This includes making replacements for Fadal Axis Motor & Amp Harnesses, XYZAB, AC or DC Motor Cables, Spindle Harnesses, Special Fadal CNC Harnesses, Fadal Rotary Wire Harnesses & Cables, Communication Cables, and Tool Changer Cables. Only ITSCNC has all of the original Fadal Cable and Wire Harnesses.


Replacing Cables and Wires
Fixing Wiring Harnesses can be tricky due to various ways they can go wrong: wires breaking (circuits opening), wires and connections corroding (voltage dropping), and problems with shorts-to-ground and shorts-to-voltage.
In many cases, it's simpler and more cost-effective to just switch out the specific harness once you find the issue. We use top-quality components and the latest construction methods to improve cable performance and make sure each cable meets industry standards for its designated machine application.
Our team consists of the same skilled professionals who built Wire Harnesses for the original Fadal CNC Machines for more than 30 years. These experts are masters in the art of designing and making wiring harnesses, which is why we don't send our harness production overseas.


We Have Everything In Our Inventory
Choose genuine Fadal parts, not inexpensive imitations. Your machine will appreciate it. If you don't find the cable you need in our store, give us a call, and we'll create it for you. If you need a drawing or pinout of a Fadal Cable or Wire Harness, just reach out, and we'll assist you. We're the only genuine Fadal Cable Assembly and Wire Harness Manufacturer & Supplier in the market. All of the others are knckoffs.


Benefits Of Using Our Cable And Wire Harness
The advantages of choosing our Fadal Cable Wire Harness Assembly and Wire Harness solutions are clear and practical:
Expertise in Fadal Machines: With a team of experienced professionals who have been crafting Wire Harnesses for Fadal VMC Machines for over three decades, our knowledge and skill ensure the best quality.
Reliable Replacements: Our Cable Assemblies serve as trustworthy replacements for various Fadal components, including Axis Motor & Amp Harnesses, AC/DC Motor Cables, Spindle Harnesses, and more. We prioritize using the best materials and construction methods.
Simplified Troubleshooting: Our harnesses minimize troubleshooting complexities by offering easy-to-replace solutions. When a harness shows signs of malfunction, it's often simpler and more cost-effective to switch it out with a new one.
Enhanced Performance: By adhering to industry standards and utilizing top-quality components, our Cable and Wire Harness solutions optimize cable performance and ensure consistent machine operation.
Expert Artistry: Our team comprises seasoned professionals who are skilled in designing and creating wiring harnesses. This dedication to craftsmanship eliminates the need for outsourcing products from other countries.
Genuine Parts: We emphasize using original Fadal parts, which guarantees compatibility and longevity. Investing in genuine components ensures your machine's reliability and efficiency.
Customization Options: If you require a specific cable or harness that's not available in our store, we're ready to assist. Contact us, and we'll work with you to create the customized solution you need.
Technical Support: Need a drawing or pinout for a Fadal Cable or Wire Harness? Our team is here to help. Just give us a call, and we'll provide the technical assistance you require.
Choosing our Fadal Cable Assemblies and Wire Harness solutions means benefiting from years of expertise, genuine components, simplified troubleshooting, and dedicated technical support. Your Fadal machine deserves the best, and we're here to deliver just that.


Warranty
To learn about the warranty coverage for each Fadal Wiring Harness Assembly, please visit the respective product page. This will provide you with the most accurate and detailed information regarding the warranty terms and conditions of our wiring harness assembly or cable assemblies. To this day we have never had a cable or wire harness come back because of a defect.