Encoders, Resolvers & Tach.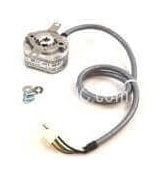 About Fadal Resolvers and Encoders
When it comes to CNC systems, precision is paramount, and at ITSCNC, we understand this need for accuracy, which is why we offer a range of high-quality Fadal Resolvers and Encoders designed to elevate your machining experience. These essential components are the ones behind the seamless operation of your machinery.


Exploring Our Products
Encoders
Our encoder offerings include the Accucoder 1000-LINE, US Digital's Spindle Motor Encoder Kit, and the Baldor Encoder MTR-0146/0350/0351. These devices play a critical role in converting the rotational movement of your machinery into electrical signals, providing precise feedback for accurate positioning and control.
Resolvers
For resolver options, we have the Fadal Style Resolver Assembly, ITS Type 2 Resolver Assembly, Resolver & Renbrandt Coupler, and Glentek's Tachometer Brush Kit and Motor Tachometers (GM4020, GM4050, GM6000). Resolvers are renowned for their durability and resistance to harsh industrial conditions. They offer reliability in applications where accuracy is non-negotiable.
Encoder Accessories
We also supply accessories like the US Digital Encoder Interface (PC4) and Resolver Connectors & Pins, ensuring that you have everything needed for seamless integration and maintenance.


ITSCNC Support
At ITSCNC, we're not just about providing top-notch products; we're also committed to supporting you throughout your journey. Our team of experts is ready to assist with any inquiries, troubleshooting, or guidance you may need. We understand that every machining setup is unique, and we're here to tailor our support to your specific requirements. Feel free to reach out to us via phone or email, and we'll be delighted to assist you.


Warranty Information
When investing in precision equipment, knowing that you're covered in case of unexpected issues provides peace of mind. Our products come with warranties that vary depending on the manufacturer and product. For more accurate information, we invite you to check out the individual product pages for detailed warranty information.
Your satisfaction and confidence in your purchase are our top priorities, which is why our warranty is amongst the best.
We're here to enhance your CNC machining endeavours with precision and reliability. If you have any questions or inquiries regarding our Fadal CNC replacement parts, please don't hesitate to give us a call. We are here to assist you in making the right decision.