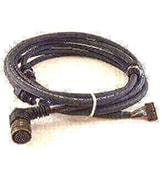 FADAL CABLE AND WIRE HARNESSES
In January 2017 Independent Technology Service purchased RG Systems Cable, the company who for 30 years made all of FADAL's wire harnesses.
ITSCNC now makes all of the Fadal Cable Assemblies at our new manufacturing facility in Chatsworth California. This includes Fadal Axis Motor & Amp Harness Replacments, XYZAB, AC or DC Motor Cables, Spindle Harness Replacements, Special Fadal CNC Harness Replacements, Fadal Rotary Wire Harness & Cables, Commnication Cables, Tool Changer Cables.
Troubleshooting Wiring Harnesses can be a difficult task given all the possibilities of how a wire harness can fail with broken wires (open circuits), corroded wires & connections (voltage drops), shorts-to-ground and shorts-to-voltage problems.
In most cases it's much easier and cost effective to simply replace the specific harness, once identified. We use only the finest components and the latest construction technologies to optimize cable performance, and ensure compliance to industry specifications for each cable and its designated application in the machine.
We use the original skilled professionals who built the Wire Harnesses for the original Fadal VMC Machines for over 30 years. These guys are masters of the art of wiring harness design and manufacturing which is why we won't out source our wire harnesses oversea's.
Buy original Fadal parts not cheap knock-offs. Your machine will thank you for it. If you don't see the cable you need in our store then call us and we'll make it for you.
If you need a drawing or pinout of a Fadal Cable or Wire Harness then call us and we will help you out.